Support/Info Page: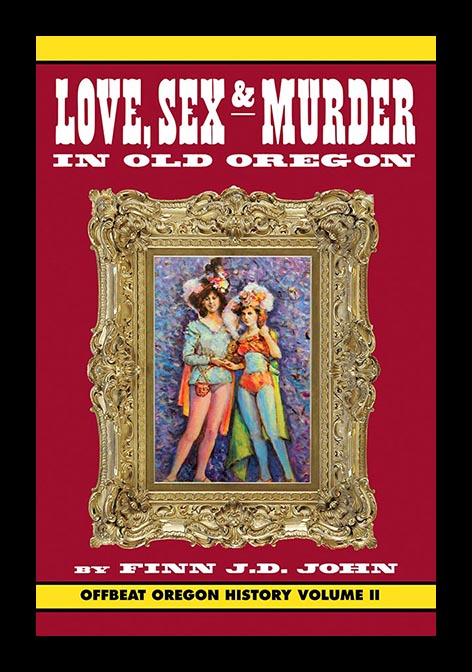 Love, Sex and Murder ...
Deadly lovers ... outlaw couples ...

... serial killers and deadly strangers ...
Since 2008 the Offbeat Oregon History syndicated newspaper column has entertained and informed Oregonians with the weirdest, quirkiest, funniest, and most outrageous true stories in the surprisingly long history of their young state.
Now, for the first time, those stories have been collected together, re-researched, augmented with freshly discovered information, and presented to readers in book form!
This is Volume 2, in which you'll find the Beaver State's most seamy, salacious, and lethal stories: Love affairs turned unexpectedly deadly, vigilantes with drawn guns and ready ropes, mother-son murder teams, brothers avenging their sisters' seduction, husbands gunning for suspected homewreckers, and cold cases whose perpetrators are lost in the mists of time. You'll find a total of 59 of them in this 384-page book, along with more than 100 vintage photographs, newspaper clippings, and other pieces of art.
Here's a selection of our favorite stories from this book …
The Dynamite Vamp: Someone killed Oliver Kermit Smith with a massive dynamite bomb planted under his car seat ... and police soon figured out who. But did Smith's wife really put the killer up to the job, like a real-life version of Nicole Kidman's character in "To Die For"?
The Ex-Police Chief: At the pay the city of Sandy was offering, Otto Austin Loel was the only man willing to take the job. He didn't turn out to be much of a bargain ... but it wouldn't be until several years later that the townsfolk learned about a blood-spattered hotel room, and how much worse their former top cop could have been.
The Conjugal Jailbreak: By far the most embarrassing jailbreak in state history happened when a murderer simply walked out the back door of a Motel 6 during an unsupervised "conjugal visit" with a woman officials thought was his fiancée …
The Filial Bomber: Surreptitiously, Jack Graham had taken out big insurance policies on his mother before her flight to Portland. On the big day, he figured the airliner would be way out over the Wyoming mountains before the bomb he'd planted in her suitcase went off; but the plane got out late ….
The Unwritten Law: For a couple decades around the turn of the last century, if a murderer could convince a jury that his victim had been a "home-wrecker," he could expect to be not only acquitted, but lionized as a brave and noble domestic hero.
Central Oregon's Angel of Death: "Professor" Ray V.B. Jackson just happened to be on hand, playing the role of helpful witness, at almost every high-profile murder scene in Lake and Harney counties, for decades. What were the odds?
The Alibi Wanderers: Claude Branton and Courtland Green had left Condon with a wealthy rancher and murdered him on the way. Only then did they realize how bad it would look to show up at their destination without him ... so they began a desperate quest for an alibi.
"Diamond Bill" Barrett earned his nickname by sweet-talking a jewelry store into letting him borrow a $55,000 diamond, which he promptly hocked. Later, he deployed that charm to sweet-talk two heiresses into marrying him, then disappeared with showgirl Sidi Wirt Spreckels' $100,000 string of pearls. But the mystery remains: Did he really steal Sidi's pearls ... or did he fence them for her?
On this hub page ...
... you will find links out to all the different formats and media in which this book is available.
Start reading now, for free:
The PDF edition of this book is absolutely free of charge. So if you'd like to take a look and see if it's something you'd like to add to your collection of audiobooks, hardcovers, paperbacks or e-books, you can "try before you buy." Think of it like Amazon's "Look Inside" function, except that you get access to the whole book rather than just a few pages.
And, of course, if you're on a tight budget or if you actually enjoy reading at your computer, you can read the whole book this way.