Support/Info Page: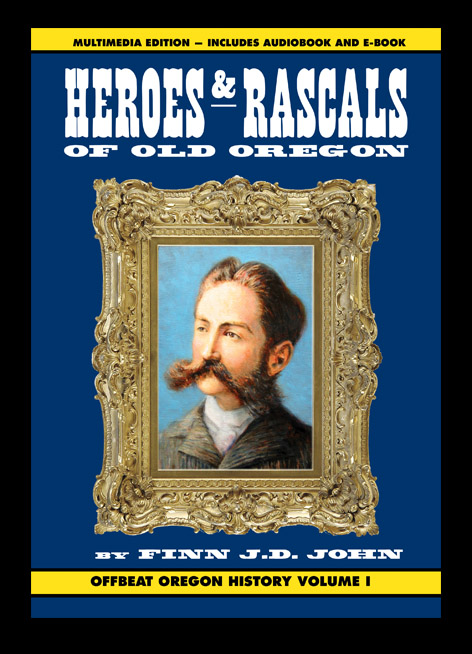 Heroes & rascals ...
Shipwrecks & lost gold ...

Since 2008 the Offbeat Oregon History syndicated newspaper column has entertained and informed Oregonians with the weirdest, quirkiest, funniest, and most outrageous true stories in the surprisingly long history of their young state. Now, for the first time, those stories have been collected together, re-researched, augmented with freshly discovered information, and presented to readers in book form — starting with this volume, in which we've selected the most inspirational heroes, the most scurrilous rascals, and the most hilariously quirky mavericks of our state.
Join us, do! And stay tuned for Volume 2 — to be titled "Love, Sex and Murder in Old Oregon" — coming fall 2019!
On this hub page ...
... you will find links out to all the different formats and media in which this book is available.
Start listening now, for free:
As an extended audio sample, a selection of our favorite stories from this book are free to download, listen to, and share. Included are ...
Heroes:
Joel Munson, lighthouse keeper: When a deadly shipwreck threw a battered lifeboat up on the beach, he restored it and used it to start Oregon's first surf-rescue service.
Mary G. Leonard, attorney: After being accused and acquitted of murdering her husband, this erstwhile housuewife became the first female attorney in Oregon — and, effectively, its first law clinic for the poor.
Capt. Robert Pamphlet, rumrunner: With a hold full of Scotch, at the height of Prohibition, he took the risk of sailing into American waters to rescue a lifeboat full of shipwrecked sailors ... and paid for his heroism with a prison sentence.
Mavericks:
"Uncle Joab" Powell, circuit preacher: He was the most famous preacher on the West Coast, so when Oregon's first Legislature convened and started looking for a chaplain, they naturally thought of him. They soon wished they hadn't.
Joe Knowles, wilderness-survival guru: Joe was the Bear Grylls of the 1910s, but was dogged by rumors that he'd cheated on the "naked in the woods" stunt that made him famous. So he came to Oregon for a rematch with Mother Nature ....
Art Lacey, gas-station owner: Art heard the government was selling war surplus B-17s for super cheap, so he went to Arkansas and bought one. But getting the big bird home to Milwaukie would be the adventure of a lifetime.
Rascals:
James Lappeus, gambler, liquor peddler and police chief: Portland's first (and, arguably, most colorful) chief of police was the owner of a fine saloon, theater and gambling palace that was rumored to also employ prostitutes.
Maud Myrtle Johnson, actress and insurance fraudster: She made so much money faking injuries on passenger railroads that the claims agents formed a professional association just to catch her ... which they finally did.
Harry Virtue, doctor impersonator: He was getting by as an itinerant fake veterinarian when Harry heard an acquaintance, Dr. Richard Barber, had died heroically while racing to save a patient. So he moved far away, assumed his identity, and went into the doctoring business.
Paul Remaley & al., bootleggers: Their boat had hit a rock, the feds had seized their liquor, and their friends were locked in the county jail awaiting trial. Paul's mission: Break them out -- and save the booze, too.
Together, these ten chapters comprise a little over two hours of audio. The full audiobook is 10 hours long, so there is plenty more where this came from; if you like what you hear, we hope you'll head on over to your favorite audiobook vendor and buy a copy of your own!
Start reading now, for free:
The PDF edition of this book is absolutely free of charge. So if you'd like to take a look and see if it's something you'd like to add to your collection of audiobooks, hardcovers, paperbacks or e-books, you can "try before you buy." Think of it like Amazon's "Look Inside" function, except that you get access to the whole book rather than just a few pages.
And, of course, if you're on a tight budget or if you actually enjoy reading at your computer, you can read the whole book this way.